News archives 2013
Follow Slash latest news on our networking pages:
Slash live with Camp Freddy at The Roxy
December 21, 2013 news
Slash joined Camp Freddie on stage at The Roxy in Hollywood to play "School's Out", "Highway To Hell" and "Paradise City" with Danny Worsnop and Billy Ray Cyrus.
Slash on stage at Notes For Notes benefit concert
December 6, 2013 news
Slash join Jimmy Vivino and The Basic Cable Band on stage in Santa Barbara for 3rd Seymour Duncan Benefit Show supporting Notes For Notes to perform "Ramblin' On My Mind", "Papa Was A Rolling Stone", "Red House" and "Gimme Shelter".
Slash and Myles Kennedy performing an acoustic set in Hollywood
September 25, 2013 news
In honor of Slash's movie producing debut Nothing Left To Fear, Slash and Myles treated an intimate crowd of friends to a six song acoustic set at Umami Burger in Hollywood after the world premiere across the street at the Arclight.
Listen to "Badger Swagger" featuring Slash, Brian May and more
June 4, 2013 news
"Badger Swagger" is a single which has been created by live arts and entertainment company The Artful Badger, to raise awareness of the UK government's decision to slaughter of one of the most unique creatures of the British Isles.
Slash urges support for Animals Asia
May 10, 2013 news
Slash has added his voice to a growing number of rock musicians supporting Animals Asia in its campaign to end bear bile farming.
Slash rallies fans to save sharks
April 25, 2013 news
Slash's humanitarian side is shining through again as the guitar great has used his celebrity to sway fans toward a new campaign aiming to combat the slaughter of sharks.
Slash performing for Shredfest 5 in Los Angeles
April 13, 2013 news
Slash, but also Matt Sorum, Zakk Wylde and Shavo Odadjian took the stage at Los Angeles House of Blues for Shredfest 5 benefit against children's cancer. He played "Welcome To The Jungle", "Slither" and "Paradise City" with some kids.
Slash X Ron English limited edition bust sculpture
March 26, 2013 news
The cover art for Slash's first solo album was created by the one and only artist, Ron English, who has now re-created a fiberglass bust of that image. The bust is being released on April 8th, and there will only be 10 pieces available.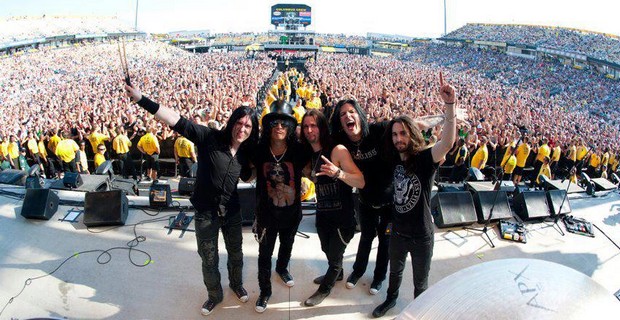 Back on an Apocalyptic Year
January 6, 2013 news
Apocalyptic Love, World Tour and other appearances... Let's see what happened in Slash's world last year.