More about Slash
"I like to do a lot of things: I like cars, I like to play pinblall, I like to go to museums, I like to read, I love to draw, I love to do anything that has to do with animals, and I go to movies a lot." (Slash)
Reptiles
"Basically I am a self-taught zookeeper and I definitely relate to the animals I've lived with better than to most of the humauns I've known." (Slash)
As a child, Slash was fascinated by dinosaurs and reptiles. He started caring for and keeping snakes as pets when he moved from England to California. Until 2008, he had about one hundred snakes, lizards and crocodiles in his house. Since several years, Slash is also a staunch supporter of the Los Angeles Zoo and an advocate for zoos all around the world. In 2011, he received the Tom Mankiewicz Leadership Award for his involvement in the causes of wildlife and environment protection.
Famous pets: Mickey (black-and-white rat), Jack (Jackson's chameleon), Clyde and Sam (anacondas), Pandora (boa constrictor which appears in "Patience" music video), Jacob (another boa that Slash gave to the Los Angeles Zoo), Adrianna (Burmese python) and Curtis (mountain lion).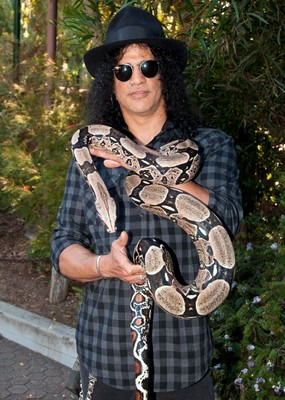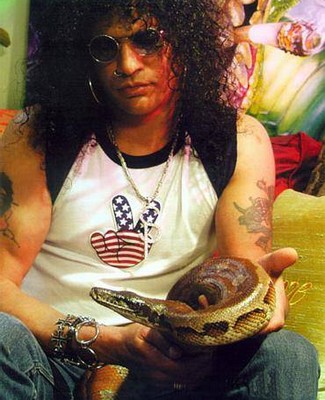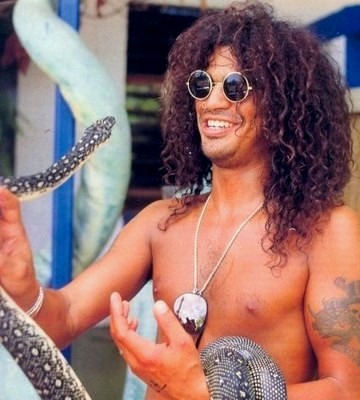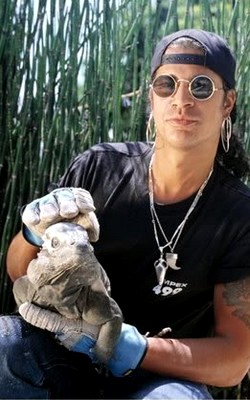 Pinball
"My ex-wife, her family lives in the suburbs of Chicago, and I went there to visit for the first time - I never played pinball as a kid - so I was bored. there was nothing to do except drive into the city and get fucked up and never be able to find my way back. But they had a basement - those are real popular in Chicago - and they had pinball machines down there. So I played pinball every night for a week." (Slash)
Slash discovered pinball machines in the early 1990s. He still quotes Funhouse, Party Zone, The Addams Family and Jurassic Park as his favourite ones. In 1994, Data East asked him to participate in the conception of a Guns N' Roses machine: playing to bring band members on stage. The soundtrack featured the song "Ain't Goin' Down", a Use Your Illusion outtake that signs the only official release of the song. A few years later, Slash contributed to the Viper Night Drivin' machine produced by Sega. You can hear "Speed Parade" from Slash's Snakepit during the game and Slash made a few cameos. He also recorded a song dedicated to his love of pinball machines: "Be The Ball" features on the 1995 Slash's Snakepit album It's Five O'Clock Somewhere. In 2020 Guns N' Roses have teamed with Jersey Jack Pinball to design their very own groundbreaking Not In This Lifetime pinball game. It is available in three models, including the standard edition, a limited edition and the collector's edition signed by Axl, Slash and Duff. In 2023 Slash played in a new version of The Godfather Theme recorded for the pinball game The Godfather 50 Years manufactured by Jersey Jack.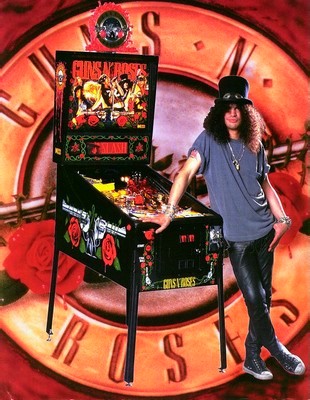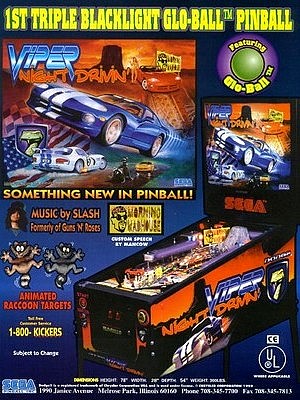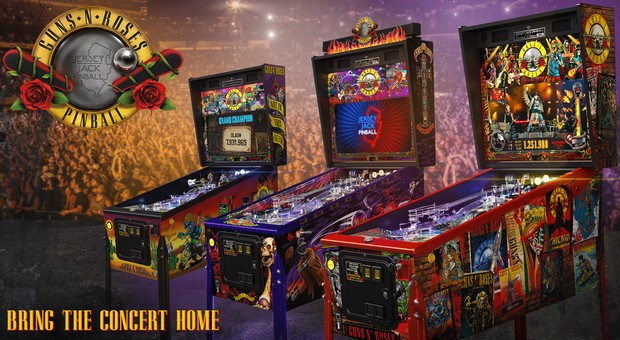 BMX
"By 1978 we were riding bicycle motocross. The tricks that he performed were ahead of the time. Slash was a star. Calera flashes would go off when he took his jumps. He approached bicycle motocross with the same style and flash as he did everything else." (Marc Canter)
Before learning to play guitar, Slash had a passion for BMX and bicycle races. He was listed in a couple of magazines as an up-and-coming rider in the thirteen to fourteen age category.