Slash's Blues Ball
"I've never had predetermined goals for collaborating outside of my own group or project. I like the spontaneity of hooking with different artists by chance." (Slash)
In the autumn of 1995, Slash got back with Guns N' Roses, as the first Snakepit hiatus allowed him to put aside the tensions that opposed him to Axl. Nobody knows what really happened at that time but starting January 1st of 1996, Slash is no longer part of Gun's N Roses. His departure is not yet official when he is invited to play at the Sziget festival in Budapest: Slash accepts and puts up a Blues and Rock cover band.
Lead vocals are held by Teddy Andreadis, former stage harmonica and keyboardist of Gun N' Roses, and bass player Johnny Blackout is immediately hired. A rhythm guitar, a drummer and a saxophonist complete the line-up and they all fly to Budapest under the name of Slash's Blues Ball. More than 200,000 people attend the festival where artists such as Iggy Pop, Prodigy, Sonic Youth and The Stone Roses were also headlining. The Blues Ball takes the stage with twenty covers and splits once the mission is accomplished.
The 30th October of 1996 is a crucial milestone in Slash's professional career as Axl announces that Slash will no longer be involved in Guns N' Roses activities thus officializing the definitive split. As Slash doesn't like to remain inactive, he gets back on the road with the Blues Ball less than a month after. The band adds around ten covers to its repertoire to play four to five times a month in the U.S.A. until the summer of 1997, changing rhythm guitars and drummers from time to time. In June, Slash's Blues Ball gives two concerts in London for the Mad About Music festival. They play another seven gigs and will get on stage for the last time in November 16 during a tribute show for Jason Becker in Amsterdam.
Band members
Teddy Andreadis: lead vocals, keyboards, harmonica

(Guns N' Roses, Carole King)

Slash: lead & rhythm guitars, backing vocals

(Guns N' Roses, Velvet Revolver)

Bobby Schneck: rhythm guitar, backing vocals

(Gilby Clarke, Slash)

Johnny Griparic: bass, backing vocals

(Richie Kotzen, Slash's Snakepit)

Alvino Bennet: drums, backing vocals

(The Sylvers, Stevie Wonder)

Dave McLarem: saxophone, backing vocals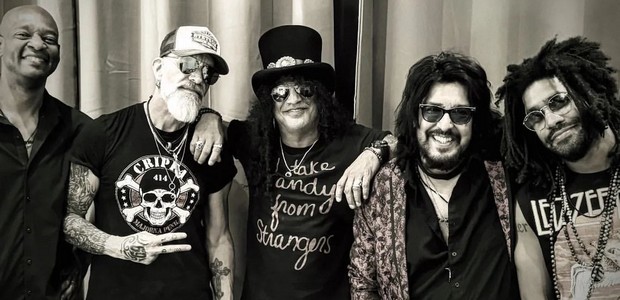 Slash's Blues Ball flyers for shows in the U.S.A.
Played songs
Neither Can I (Slash's Snakepit) / Always On The Run (Lenny Kravitz) / Knockin' On Heaven's Door (Bob Dylan) / Stone Free (Jimi Hendrix) / Red House (Jimi Hendrix) / Born Under A Bad Sign (William Bell) / Crossroads (Robert Johnson) / Nightprowler (AC/DC) / Oh Well (Fleetwood Mac) / Let It Roll (UFO) / Under My Wheels (Alice Cooper) / The Thrill Is Gone (B.B. King) / Key To The Highway (B.B. King) / Bad Luck (B.B. King) / Slowride (Foghat) / Superstitious (Stevie Wonder) / Funk #49 (James Gang) / The Pusher (Steppenwolf) / Magic Carpet Ride (Steppenwolf) / Travelin' Band (Creedence Clearwater Revival) / Hoochie Coochie Man (Willie Dixon) / Bring It On Home (Willie Dixon) / Heartbreak Hotel (Elvis Presley) / Going Down (Don Nix) / Shake Your Money Maker (Elmor James) / Use Me (Bill Withers)
Live guests
Les Paul: guitar on "Let It Roll" and "Shake Your Money Maker"

(New York 1996)

Carole King: vocals on "Knockin' On Heaven's Door"

(New York 1996)

Steve Lukather: guitar on "Hoochie Coochie Man"

(Los Angeles 1998)

Neal Schon: guitar on "Hoochie Coochie Man"

(Los Angeles 1998)

Ryan Roxie: guitar on "Night Prowler"

(Los Angeles 1998)

Ace Frehley: guitar on "Blues Jam"

(Los Angeles 1998)
Concerts & shows
| | | | |
| --- | --- | --- | --- |
| Aug 14, 1996 | Budapest | Hungary | Sziget Festival |
| Nov 20, 1996 | San Diego | U.S.A. | Brick By Brick |
| Nov 21, 1996 | San Juan | U.S.A. | The Coach House |
| Nov 22, 1996 | Los Angeles | U.S.A. | House of Blues |
| Dec 5, 1996 | New York | U.S.A. | Tramps |
| Dec 6, 1996 | Boston | U.S.A. | Mama Kin's |
| Dec 7, 1996 | Philadelphia | U.S.A. | Electric Factory |
| Jan 29, 1997 | Palo Alto | U.S.A. | The Edge Nightclub |
| Jan 30, 1997 | San Francisco | U.S.A. | The Trocadero |
| Jan 31, 1997 | Santa Ana | U.S.A. | Galaxy Theatre |
| Feb 1, 1997 | Portland | U.S.A. | Roseland |
| Feb 2, 1997 | Seattle | U.S.A. | Fenix Underground |
| Feb 6, 1997 | Tempe | U.S.A. | Electric Ballroom |
| Feb 7, 1997 | Santa Ana | U.S.A. | Galaxy Theatre |
| Feb 8, 1997 | Ventura | U.S.A. | Ventura Theatre |
| Apr 4, 1997 | Baton Rouge | U.S.A. | Varsity Theatre |
| Apr 6, 1997 | Austin | U.S.A. | Back Room |
| Apr 8, 1997 | San Antonio | U.S.A. | White Rabbit |
| Apr 10, 1997 | New Orleans | U.S.A. | House of Blues |
| Apr 11, 1997 | Houston | U.S.A. | Area 51 |
| Apr 12, 1997 | Dallas | U.S.A. | Caravan of Dreams |
| Apr 14, 1997 | Phoenix | U.S.A. | Cajun House |
| Apr 15, 1997 | Las Vegas | U.S.A. | Hunt Ridge Club |
| Apr 19, 1997 | Las Vegas | U.S.A. | Pink E's |
| May 10, 1997 | Baltimore | U.S.A. | HarborView Center |
| May 23, 1997 | Los Angeles | U.S.A. | McInerny's |
| May 24, 1997 | Chicago | U.S.A. | House of Blues |
| May 28, 1997 | Boston | U.S.A. | Mama Kin's |
| Jun 6, 1997 | Seattle | U.S.A. | The Fenix Underground |
| Jun 20, 1997 | London | England | Docklands Arena |
| Jun 21, 1997 | London | England | Docklands Arena |
| Jul 1, 1997 | Clarkston | U.S.A. | Pine Knob Theatre |
| Jul 25, 1997 | Old Bridge | U.S.A. | Birch Hill |
| Jul 26, 1997 | Lincoln | U.S.A. | Loon Mountain |
| Aug 27, 1997 | Los Angeles | U.S.A. | Hollywood Colonade |
| Aug 31, 1997 | Los Angeles | U.S.A. | Red Rocks Amphitheatre |
| Oct 5, 1997 | Santa Cruz | U.S.A. | Hollywood Bike Jam 97 |
| Oct 31, 1997 | Phoenix | U.S.A. | Cajun House |
| Nov 16, 1997 | Amsterdam | Netherlands | Paradiso |
| Jan 31, 1998 | Los Angeles | U.S.A. | The Roxy Theatre |