Slash profile
"His reason of calling me Slash was that I never stood still for more than five minutes. He saw me as someone who was always working on his next scheme." (Slash)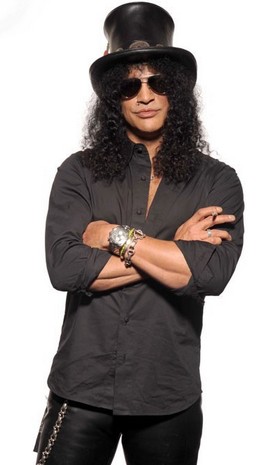 Birth name: Saul Hudson.
Date of birth: July 23, 1965.
Place of birth: Hampstead (London), England.
Nationality: British and American.
Hometown: Stoke-on-Trent, England.
Residence: Beverly Hills (Los Angeles), U.S.A.
Height: 1m79 / 5ft10½in.
Distinguishing features: top hat, tattoos, Les Paul, living through the implantation of a defibrillator since 2001 and no alcohol since July 3, 2005.
Father: Anthony Hudson, artist who created album covers for musicians such as Neil Young and Joni Mitchell.
Mother: Ola Hudson, costume designer whose clients included David Bowie.
Brother: Albion Hudson, designer who founded his own company and worked on several Slash's album artworks.
Girlfriend: Meegan Hodges, stylist met in 1989.
Ex-wifes: Renee Suran (from 1992 to 1997) and Perla Ferrar Hudson (from 2001 to 2014).
Children: London Emilio Hudson (born August 28th, 2002 in Los Angeles) and Cash Anthony Hudson (born June 23rd, 2004 in Los Angeles).
Religion: none but believe in something superior.
Bands: Tidus Sloan, Road Crew, Hollywood Rose, Black Sheep, Guns N' Roses, Slash's Snakepit, Slash's Blues Ball, Velvet Revolver, Slash featuring Myles Kennedy & The Conspirators.
Influences: Aerosmith, Cheap Trick, Black Sabbath, The Who, Led Zeppelin, UFO, The Rolling Stones, The Stooges, Jeff Beck, Rory Gallagher, Ted Nugent, Jimi Hendrix... >> more about Slash's influences
First played riffs: Smoke On The Water (Deep Purple), 25 Or 6 To 4 (Chicago), Dazed And Confused (Led Zeppelin), Hey Joe (Jimi Hendrix), Jumpin' Jack Flash (The Rolling Stones).
Favorite albums: Rocks (Aerosmith), Blow By Blow (Jeff Beck), Let It Bleed (The Rolling Stones).
Favorite books: The Jungle (U. Sinclair), A Tale Of Two Cities (C. Dickens).
Favorite movies: A Clockwork Orange (S. Kubrick), One Flew Over The Cuckoo's Nest (M. Forman).
Favorite actors: Jack Nicholson, Robert De Niro, Gary Oldman, Graham Greene, Ann-Margaret.
Favorite video games: Galaxian, Angry Birds.
Favorite pinballs: Funhouse, Party Zone, The Addams Family, Jurassic Park.
Favorite dinosaurs: Raptors.
Favorite restaurants: Citrus Etoile (Paris), Gaylord Restaurant (London), Royal Restaurant (Milano).
Favorite meal: Argentine beef.
Mobile phones: Blackberry (2010-2011), iPhone (2011-2013) and Samsung Note (since 2013).
Greatest fears: dentist and public speaking.
Other interests: animals and reptiles, pinball, horror movies, cooking... >> more about Slash's interests
25 Things You Don't Know About Me
Slash talks to usmagazine.com, 2011.
The first instrument I ever played was the drums. I was the little drummer boy in a school production of 12 days of Christmas in Stoke-on-Trent, England, when I was 5 years old.
I watch SpongeBob SquarePants.
I'm a cat lover.
I'm an avid dinosaur and pinball machine collector. I'm a bit of a pack rat.
I love building Legos with my kid.
I have candy and chocolate stashed in the house that I secretly get into.
I am five years clean and sober.
I've flat-lined three times (that I know of).
I'm also a non-smoker. But I'm addicted to coffee. The stronger the better, Cuban is my favorite.
I have no middle name.
I have an internal defibrillator in my heart. Don't do drugs and alcohol, I'm living proof!
I don't eat anything from the sea.
I'm a "semi-pro" race car driver.
I'm a huge movie buff.
I've started my own horror film production company called Slasher Films.
I refused to use a computer until around eight years ago.
When I was 7, I changed my name from Saul to Mark but I changed it back to Saul.
I was nicknamed Slash because I was always running/slashing.
I get freaked out watching surgery shows.
I hate reality TV. But I love cooking shows and documentaries.
I don't know how to cook.
I'm not Jewish! I'm 1/2 black, 1/2 British. I'm a proud dual citizen: American and British.
One of my favorite tracks on my album Slash is a song I did with Adam Levine called "Gotten".
I have a pet anaconda named Sam.
If I didn't live in the U.S., I'd live in Spain.
What I've Learned
Slash talks to esquire.com, 2011.
I never want to draw attention to myself, but that's all I do.
There are people who have an image of me as being rude and inconsiderate. But I'm completely the opposite, because I was raised not to be. I might have been tripping over myself drunk, but I was always courteous.
Guitars are like women. You'll never get them totally right.
"Risk" isn't a word in my vocabulary. It's my very existence.
I'm intimidated by singing. I can carry a tune and I can cover a melody, but I just hate expressing myself verbally - especially in the form of a song - to the point that I don't even like to hum to myself.
Axl and I came from completely different backgrounds. Because of that we made an interesting pair trying to figure each other out.
Between the Beatles and the Stones, my dad liked the Stones, so there was definitely an innate gene that I got from him.
When I was a kid, I got jobs so I could get cigarettes, beer, and something at the A&P. That's how I see money. It's never been a motivating factor.
Being told no was the big thing ever since I can remember. And that was always getting in the way of creativity.
I used to think Les Paul was a guitar. I didn't know he was a real guy. When I got to know him, I found out that if you're really obsessed, he was the guy you'd want to be like. He was always trying to find an answer for what he was looking for in his mind. If things didn't exist, he built them himself. He single-handedly created what I consider "popular music."
It's a constant quest to find that harmony, to connect with it, where everything that you want to come out of it comes out. Those moments are rare, but they're like drugs: Once you get going on it, you're constantly jonesing for it.
When I see footage of Guns N' Roses, I see that fucking hunger and attitude. You could not fuck with those five guys. It was just raw. It was this lean, hungry thing on its way up. It was as sincere as any rock 'n' roll that I've ever heard, and I'm proud of that.
It's not something you can find. There's a moment you arrive at - there's no words for it. A bunch of people come together at this place where a note hits your heart and your brain tells your finger where to go. It's an otherworldly thing, like when a painter gets the right combination of colors together.
If I could hang out with Jimi Hendrix, it wouldn't be over dinner.
Musicians never actually talk about music.
Heroin is a great fucking drug, but it's evil.
I had my chemically induced overdoses and alcohol poisoning and all that. I would just keep pushing it and pushing it. I had absolutely no fear of not waking up. But ultimately the clarity seeps through. If I'm going to be here, then I'm going to have to be able to do what it is I'm here to do.
My grandmother was really the last person to call me Saul. The people who call me Saul are fans who want to have that personal connection. I'm not sure what the psychology behind that is. But I'm assuming they want to get beyond Slash.
It's not like I'm Brad Pitt, but I get recognized pretty regularly. The other night I went to see a friend of mine play. When I arrived, there was just too much attention. The hardest thing about being a rock star is not being a rock star.
The split between Axl and I was a quiet one. But because there was so much attention on the breakup - and are we going to get back together? - it got built up into this monster that led to a kind of animosity that wasn't the focus for me. Neither one of us wants to be down each other's throats for no reason. At this point, I'm trying to put it to rest. So I try to avoid the subject.
When it comes down to it, I like being with one person that I'm comfortable with and who it means something with. But I have no complaints about some of the experiences I've had.
I don't know if that giraffe was trying to kiss me. But it was an experience. Have you ever seen a giraffe's tongue? It's about two feet long.
It's par for the course for me to find the one girl that is the most exciting, outspoken, and flamboyant - the most crazy. You just have to meet my wife.
Guitar is the best form of self-expression I know. Everything else, and I'm just sort of tripping around, trying to figure my way through life.
No interest. I don't tell my kids about those days. One is seven. The other is nine. One is really into his skateboard. I look at him and see myself, and I'm like, "Just do it, man!"
My Movie Life
Slash talks to totalfilm.com, 2013.
The film that scares me the most: Night Of The Living Dead (George Romero).
The first movie I ever saw: Fantasia (Walt Disney).
The film I hate that everyone loves: The Shining (Stanley Kubrick).
The film I love that everyone hates: Pain And Gain (Michael Bay).
The film that always makes me cry: Sounder (Martin Ritt).
The film I love that no one else has heard of: The Abominable Dr. Phibes (Robert Fuest).
My favourite concert movie: The Last Waltz (Martin Scorsese).
My favourite score or soundtrack: Scarface (Brian De Palma), Midnight Express (Alan Parker) and The Godfather (Francis Ford Coppola).
My favourite comedy: Sleeper (Woody Allen), Old School (Todd Phillips) and Animal House (John Landis).