Todd Kerns interview by Slash Paradise
January 14, 2011
In this exclusive interview, we had the opportunity to talk with Slash's touring bassist Todd Kerns.
First known for being the singer and guitar player in the Canadian band Age of Electric, Todd Kerns released a solo album in 2004 titled "Go Time". In 2007 production projects brought him to Las Vegas where he came to form The Sin City Sinners with former Faster Pussycat guitarist, Brent Muscat. The band released their debut CD, Exile On Fremont Street, in early 2010. In spring of 2010 Todd was asked to tour with Slash as bassist and backing vocalist. He accepted the challenge and will be touring into 2011 around the world with the guitar hero.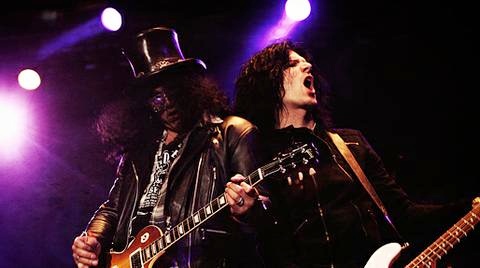 Hi Todd, could you tell us about how you came to play music?
My father played a little guitar and I picked his up around eleven or twelve and that was that. I never put it down again. Of course, KISS, The Beatles, Stones, The Who etc. were all super exciting and I knew what I wanted to do with my life. I am very lucky that that's what I ended up doing.
What do you think you would've done if you hadn't been a musician?
It's hard for me to imagine what I'd be doing if I weren't a musician as music is such a big part of my life. The biggest. I suppose I could have seen myself get into film or writing of some sort.
How did you get to tour with Slash?
Brent Fitz, Slash's drummer, called me and told me to be in L.A. the next day as the bass player they had wasn't working out. Long story short Slash never let me leave (laugh).
What has been your biggest challenge in the band since?
I think the biggest challenge is covering the parts of multiple players. Duff, Johnny and Mike from the Snakepit records and Chaney from the solo album. I make those parts my own but I want to stay true to each of their unique vibes.
Which songs are your favorite to play live?
It's always fun to add new songs to the set. We've added a few to the new tour which is exciting. Currently "Been There Lately" from the second Snakepit record is a blast to play.
Did you suggest some of them?
Oddly enough I suggested we play "Always On The Run", the song Slash did with Lenny Kravitz and we played it for the last night of the 2010 tour.
Is there any other Slash/Gn'R song you'd like to perform that you haven't done on the past tour?
"Double Talkin' Jive" would be one of my faves that we haven't ever played.
Looking back at the "We're All Gonna Die Tour", what is your best memory?
The best memories are of the people. It is very touching to see people get emotional when they meet Slash. It touches me. It always reminds that my friend Slash is a fucking legend.
And your worst memory?
The worst memory is having my retina detach on the last few weeks of the tour. I was sent home from Moscow before the last two shows of the tour for surgery. Total drag.
You travelled and played with Slash for more than 60 shows. What would you say is his main strength as a musician, as a bandmate and as a person?
Slash is such a well rounded player when it comes to feel, technique and taste. A lot of guys don't have all of those qualities. Slash lives to play guitar and lives to play live. It shows in his playing and his performance. He is also one of the warmest and most generous people I have had the pleasure of meeting.
You're about to start another tour through the U.S.A., Australia, Asia and South America. How did you prepare for this tour as a band? Do you feel the need to do things differently?
Well, we are playing a truncated set opening for Ozzy so we had to slim things down some. We've added some new surprises to the set which is always nice. We just finished three days of rehearsal and then we're off and running. The funny thing is that we started as Slash's support team with Myles in the lead and very quickly became a band.
And of course, if there's anything else you'd like to talk about, feel free for it...
My band the Sin City Sinners have CDs available and I have a solo CD as well.
Come visit my sites:
www.toddkerns.com
and
www.thesincitysinners.com
Many thanks to Mark for making it possible, to Attila and Charles for their help and to Todd for taking the time for this interview.