Back on an Apocalyptic Year
January 6th, 2013
2012 was an Apocalyptic Year for Slash!!!
Apocalyptic Love, World Tour and other appearances... Let's see what happened in Slash's world last year.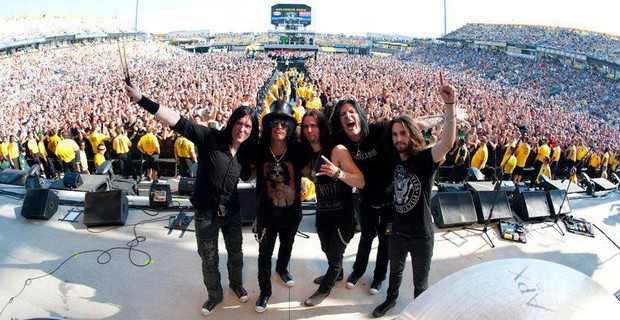 Apocalyptic Love
At first 2012 was the year of Apocalyptic Love release, an album recorded with Myles Kennedy & The Conspirators.
>> Musicians: Myles Kennedy (vocals, guitar), Slash (guitars), Todd Kerns (bass), Brent Fitz (drums)
>> Producer: Eric Valentine
>> Recorded: from October 2011 to February 2012 at Barefoot Recording Studios
>> Tracks: 13 (+ 2 bonus)
>> Released: May 22, 2012
>> Labels: Dik Hayd International / EMI
>> Singles: You're A Lie / Standing In The Sun / Bad Rain
Slash already plans to record a second studio album with Myles Kennedy & The Conspirators.
>> More about Apocalyptic Love
World Tour 2012
Slash, Myles Kennedy & The Conspirators performed 104 shows in 21 countries in 2012.
>> Line-up: Myles Kennedy, Slash, Todd Kerns, Brent Fitz & Frank Sidoris
>> Played shows: North America: 59 / Europe: 27 / South America: 11 / Australasia: 7
>> Played songs: Slash: 23 / Guns N' Roses: 11 / Slash's Snakepit: 5 / Velvet Revolver: 4 / covers: 5
>> Guests on stage: Lzzy Hale, Duff McKagan, Lemmy Kilmister, Gilby Clarke, Andrew Stockdale, Angry Anderson, Dai Pritchard, Chris Buck, Mark Tremonti, Zakk Wylde
Other live performances
>> Velvet Revolver Reunion Concert for John O'Brien in Hollywood, January 12th
Velvet Revolver played "Sucker Train Blues", "She Builds Quick Machines", "Slither" and "Wish You Were Here" with Scott Weiland
>> Power of Love Gala in Las Vegas, February 18th
Slash played "Wild Horses" with Myles Kennedy and Haley Reinhart
Slash played "Always On The Run" with Lenny Kravitz
>> Soundwave Festival in Sydney, February 26th
Slash played "Rise Today" with Alter Bridge
>> Black Diamond Hearts Concert in Sydney, April 6th
Slash played "Little Wing", "Whole Lotta Love" and "Come Together" with the band
>> Golden Gods Awards Ceremony in Los Angeles, April 11th
Slash played "School's Out" with Alice Cooper
>> Rock And Roll Hall Of Fame Induction Ceremony in Cleveland, April 14th
Slash played "Mr. Brownstone", "Sweet Child O' Mine" and "Paradise City" with Duff McKagan, Steven Adler, Matt Sorum and Gilby Clarke
Slash played "Higher Ground" with Red Hot Chili Peppers and Ronnie Wood
>> Ozzy Osbourne & Friends Tour in Europe, from June 29th to July 1st
Slash played "Iron Man", "War Pigs", "N.I.B." and "Paranoid" on 9 shows
>> Epic Bar Opening Concert in Puerto Los Cabos, December 28th
Slash played "It's So Easy", "Sweet Child O' Mine" and "Whole Lotta Love"
Album appearances
>> Thank You Les: Tribute To Les Paul
Slash on "Deep In The Blues" with Lou Pallo
>> Back From The Dead by Adler
Slash on "Just Don't Ask"
>> This Is Not A Movie soundtrack
Slash on "So Long Sin City" with Mark Lanegan
DVD & Blu-Ray appearances
>> Live at the Royal Albert Hall by B.B. King
Slash on "Jam", "The Thrill Is Gone", "Guess Who" & "When The Saints Go" with Ronnie Wood
>> Live in Germany by Velvet Revolver
Recorded: March 29, 2008 at the Palladium in Cologne (Germany)
>> More about this DVD
>> Live in New York by Slash & Myles Kennedy
Recorded: May 22, 2012 at the Irving Plaza in New York (U.S.A.)
Videos
Photos